FREE Family-Friendly Workplace Accelerator Program
October 4th, 2021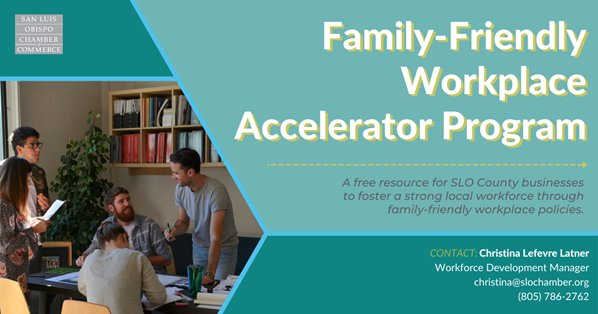 *This initiative is funded by investments from First 5 SLO County and the County of San Luis Obispo.
You can participate in the SLO Chamber's new, free Family-Friendly Workplace Accelerator Program!
According to a recent Cuesta College funded study, nearly 1,400 parents in SLO County are unable to work because of family obligations. Businesses that make even simple changes to their policies and practices will be able to reach this untapped workforce. When these parents are able to get back to work, the gross regional product of our County could increase by more than $108 million each year.
Many years in the works, the Family-Friendly Workplace Accelerator Program, free for all SLO County businesses, was created to share ways businesses can attract and retain top talent without necessarily making a large financial investment.
Family-friendly means something different for each business depending on their industry, size and location. Some proven strategies include:
flexible scheduling
accommodations and support
health spending accounts
child care support
To spearhead this innovative and much-needed program, Christina Lefevre Latner, a community leader and Cal Poly lecturer with more than twenty years of experience in the public, private and nonprofit sectors, has joined the SLO Chamber in her new role as Workforce Development Manager.
The SLO Chamber is thrilled to be taking actionable steps to address this countywide demand, and we hope you will take advantage of this free program to supercharge your business and improve our community's overall wellbeing. To see what changes will help your business, get in touch with Christina at christina@slochamber.org or (805) 786-2762.