Children's Bill of Rights for San Luis Obispo County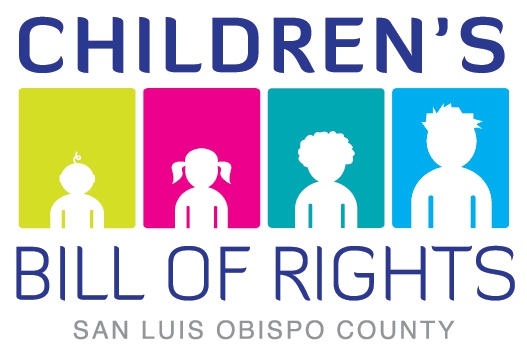 In 2013, First 5 SLO County teamed up with adults and youth throughout San Luis Obispo County to develop a local Children's Bill of Rights, on the belief that the youngest among us should be our community's highest priority. This aspirational framework was born of a collaborative, creative effort spanning many months. A Steering Committee comprised of adult and youth members took the lead and held a number of community conversations for input, resulting in a final document that serves to:
Raise awareness of the fundamental importance of children, ages 0-18, in our
community.
Summarize the Commission's aspirations for our children.
Delineate essential rights that belong to children.
Stress the importance of all aspects of development: physical, cognitive,
behavioral, social, and emotional.
Provide a foundation for community wide advocacy for our children.
Since its rollout in April of 2013, more than 50 local agencies have endorsed and supported the Children's Bill of Rights for SLO County, which is now used throughout the county and beyond, to inspire communities to put kids first. In 2017, the initiative gained even more momentum, when First 5 SLO County incorporated the Bill of Rights into its longstanding Hands-on Heroes Awards Program, honoring individuals whose daily work is a direct reflection of one or more of the Rights. (Click here to learn more about Hands-on Heroes)
We invite you to witness the journey by clicking on the video below: