Talk. Read. Sing.
During your child's first year, his or her language will develop faster than any other time.
You talking = your baby learning.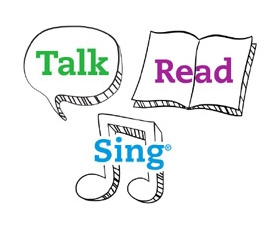 Even before acquiring the ability to speak, babies learn from hearing words spoken or sung. Take advantage of any opportunity to talk, read and sing to your child to teach him or her about language and its connection to the world around us.
Learn more about Talk Read Sing® from the information and resources below. We're here to support you as you join the #TalkingIsTeaching movement and strive to create the best possible learning environment for your child!


Information for New Parents and Caregivers
Source: Too Small To Fail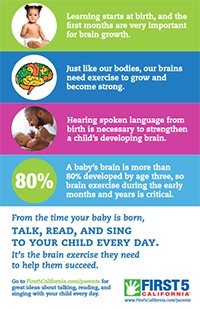 The Why:
You are your child's first teacher. The more words your baby hears from you, the better prepared he or she will be to learn.
Babies who hear their families talk, read, and sing to them every day become stronger readers.
Talking is good for more than just language development. Singing songs and telling stories to your baby helps him or her bond with you, and helps his or her brain develop.
Hugging, laughing, and sharing close moments helps your baby bond with you, and also helps his or her brain to develop.
The more words he or she hears from you and other caregivers - and the more positive experiences she has with you - the better prepared he or she will be to learn.
The How:
Talk to your baby about anything and everything. When they coo, coo back. When they smile, smile back.
Make routines out of singing during everyday activities like bathing, eating and getting dressed.
Read a book to your baby every day - in whatever language you feel most comfortable - beginning at birth. And if you don't feel comfortable reading words, you can point out the pictures in the book and talk with your baby about them.
Everywhere you go, talk or sing about what you see. Point out the world to your child. A stop sign, a traffic light, or a tree might seem boring to you, but it's a whole new world for your baby, so teach them about it!
For more information, take a look at this Talking Is Teaching tip sheet from TooSmall.org.


Handouts and Guides: What to Give New Parents and Caregivers
We recommend the following resources from Too Small to Fail, the American Academy of Pediatrics and Reach Out and Read: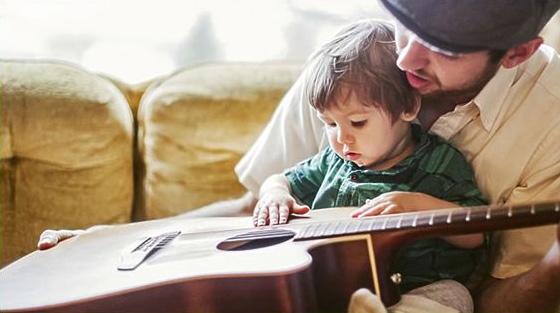 Handouts: What to Give Health Care Providers
Here are some helpful handouts from the American Academy of Pediatrics' literacy toolkit: