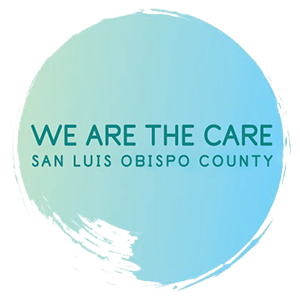 We Are the Care Initiative
The We Are the Care Vision

We envision a San Luis Obispo County where all families can find and afford quality care for their children, and where child care professionals are valued for their critical role in building a solid foundation for our children and families to thrive in the world.
Mission & Who We Are
The We Are the Care Initiative is a coalition of committed individuals and agencies mobilizing to bring together the whole community to build upon our current local child care system. Administered by the Early Care and Education Planning Council, we seek to increase the access/affordability and quality of child care options for ALL families, and to elevate the profession of early childhood educators. We work together toward our goals through education of public and private sectors, the use and alignment of resources, and creative problem solving.
History

The We Are the Care Initiative was created as a result of the "Where's the Care? Town Hall" that was hosted in May 2019. The town hall was hosted by First 5 SLO County with support of local stakeholders. The event featured speakers from all over the state representing the private sector and government side of addressing child care needs. There was equal time dedicated to addressing/exploring the challenge and beginning to problem solve.
Please check out these videos created for the event:
Looking for Child Care?
If you are currently looking for child care or resources relating to child care, please check out SLO County's Child Care Resource Connection or call (805) 541-2272.
Contact Us
For more information, please email council@sanluischildcare.org