First 5 Shows Up: Our Critical Role Amid COVID-19
July 14th, 2020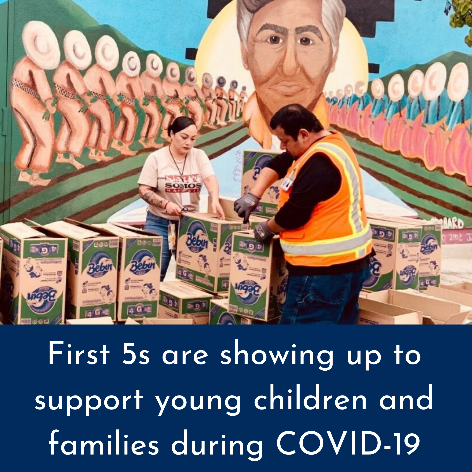 We invite you to click the following link to see a snapshot of this collective work, as well as read about our own local efforts below.
https://spark.adobe.com/page/PGjTHniDVzKDE/

In a cross-sector collaboration, First 5 San Luis Obispo County has invested emergency funds totaling $75,000 in partnership with the Community Foundation through its Disaster Response Fund program. Our agency continues to be integrally involved in the grantee selection process, aimed at supporting vulnerable populations most impacted by COVID-19 and the economic consequences of this outbreak.
We lent support to Community Action Partnership of San Luis Obispo County (CAPSLO) Child Care Resource Connection, who took the lead in distributing $4 million in mission-critical care supplies from First 5 California for ECE providers across our county. SLO County Public Libraries and the SLO County's Oral Health Program also donated materials.
We helped facilitate a local planning effort to build financial relief capacity for undocumented and mixed status families not currently eligible for federal stimulus money. The initiative models other mobilizations that use already existing mechanisms to address basic needs for those living in the margins and struggling even more during the pandemic. To date, SLO County UndocuSupport has raised $30,000 for local families.
We have amplified our advocacy through our "We are the Care" campaign, tackling child care and early childhood education challenges during COVID-19.This includes working with our local Chamber of Commerce and city municipalities to recognize and elevate the fundamental value of child care providers/businesses and the important work they do— and to pledge to stand with them through the recovery process.
We redirected our monthly "Hands-on Heroes" public awareness project to feature ECE, family and community efforts amid pandemic adversities, including but not limited to parents and teachers navigating new online-at-home-educational landscapes, and neighborhoods coming together to respond swiftly and smoothly to needs as they emerge.
As part of broader virtual parent engagement work via our funded partners, we strived to help families keep making reading routines and family bonding time a priority by hosting an interactive Talk.Read.Sing. Time on social media. The LIVE, daily segment included bilingual stories/songs, sign language and imaginative play-- culminating with a Kids' Week.
Like our counterparts across the state, we at First 5 SLO County are committed to working alongside community partners and continuing to be a go-to resource for families and children throughout the pandemic and the recovery process ahead.