Get Connected: Self-Advocacy Workshop (Virtual)
May 12th, 2021 - May 12th, 2021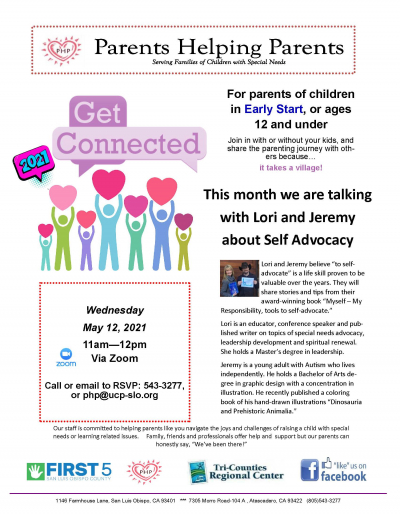 Flyer here: Get Connected PHP Self-Advocacy Workshop
For the Get Connected (parents of kids 0-12) on May 12, we will talk about:

How to approach Self-Advocacy with our children?

We are lucky to have special guests Lori and her son Jeremy to talk about their journey. Here are some questions to consider:
What actions can you take when your child is very young?
Does it relate to their awareness of their disability or difference?
When does Self-Advocacy become an IEP goal?
What can we do to help our children become capable, independent adults?
Please RSVP to receive the Zoom link (see flyer below for info)