Positive DisciplineClass/Disciplina Positiva Clase
November 16th, 2021 - November 30th, 2021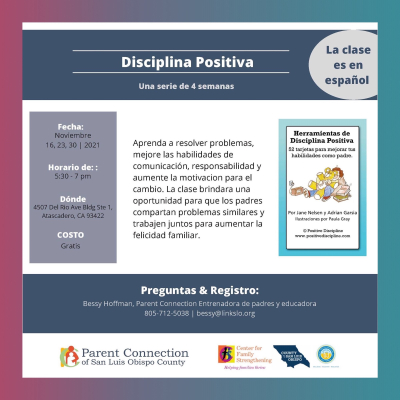 Positive Discipline/Disciplina Positiva
Aprenda a resolver problemas, mejore las habilidades de comunicación, responsabilidad y aumente la motivacion para el cambio. La clase brindara una oportunidad para que los padres compartan problemas similares y trabajen juntos para aumentar la felicidad familiar.
Preguntas y Registro: 805-712-5038, bessy@linkslo.org.
***
Learn to solve problems, improve communication skills, responsibility and increase motivation for change. The class will provide an opportunity for parents to share similar issues and work together to increase family happiness.