Quality Counts Kickoff - "Power of Play"
October 1st, 2022 - October 1st, 2022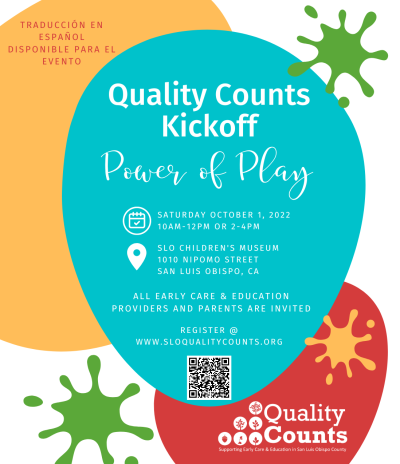 Quality Counts is dedicated to supporting early care and education in San Luis Obispo County. They, in partnership with many local, regional and state organizations, are on a mission to inform and connect parents to high-quality early learning and care programs, provide free support services to early educators, and ensure that infants, toddlers and preschool-age children have high quality early learning experiences so that all children can grow and thrive. You are invited to learn more about all that Quality Counts has to offer and experience the Power of Play at this year's Annual Kick Off event. The event is FREE, as are all of the parent and program resources. You are invited to come any time 10am-12pm OR 2-4pm. (The museum is closed 12:30-1:30pm, per COVID-19 cleaning precautions).
Come explore the Power of Play and to learn more about Quality Counts, including:
Calendar of professional development and training opportunities
Learning Communities
Educator Stipends for Professional Development and Continuing Education
Program Grants
Community Partners & Resources
And more!