Parenting Sober Support Group / Grupo de apoyo para Padres Sobrios
September 7th, 2023 - December 7th, 2023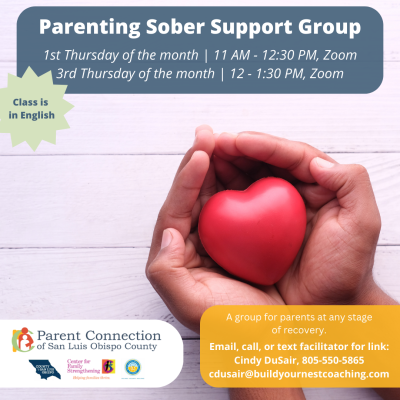 Parent Connection's (Center for Family Strengthening) virtual Parenting Sober Support Group is now available twice every month:
Parenting Sober Support Group / Grupo de apoyo para Padres Sobrios

1st Thursday 11 am - 12:30 pm &
3rd Thursday 12 - 1:30 pm
A group for parents at any stage of recovery. This group is based on the 12 Step Principles and intertwined with Positive Discipline Parenting Strategies.
Email, call, or text facilitator for link:
Cindy DuSair, 805-550-5865
cdusair@buildyournestcoaching.com
El primer Jueves del mes de 11 a.m. a 12:30 p.m. Y el tercer Jueves del mes de 12 a 1:30 p.m. en Zoom en inglés

Este grupo es para Padres en cualquier etapa de recuperación. Este grupo se basa en los principios de los Doce Pasos y está entrelazado con estrategias de Crianza de Disciplina Positiva.