Promoting Resiliency for Immigrant Families / Promoción de la resiliencia de las familias inmigrantes
October 5th, 2023 - October 5th, 2023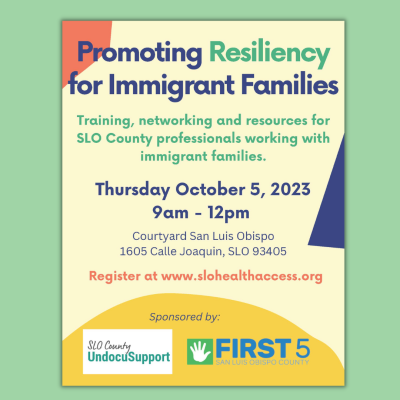 Do you work directly with immigrant families? Then this event is for you! Meet in person with your colleagues from SLO County family-serving agencies. Learn more about trauma-informed care, participate in a Resource Fair, and engage in meaningful dialogue about effective outreach and engagement with immigrant families. Thursday, October 5th from 9am-Noon at the Courtyard San Luis Obispo (Marriott) Registration is free but limited. https://rb.gy/u2g5r Questions? Contact Natalie Rhodes (805) 260-9333 or natalie@natalierhodes.com.
[The Forum welcomes those working with immigrant families in family support, healthcare, education, and other sectors including family advocates, case managers, social workers, front desk staff, early care providers, and others providing direct support to children and families.]
¿Trabaja directamente con familias inmigrantes? ¡Entonces este evento es para ti! Reúnase en persona con sus colegas de las agencias de servicios familiares del condado de SLO. Obtenga más información sobre la atención basada en el trauma, participe en una feria de recursos y participe en un diálogo significativo sobre la divulgación y el compromiso efectivos con las familias inmigrantes. Jueves 5 de octubre de 9 am al mediodía en el Courtyard San Luis Obispo (Marriott) La inscripción es gratuita pero limitada.
https://rb.gy/u2g5r
¿Preguntas? Comuníquese con Natalie Rhodes (805) 260-9333 o natalie@natalierhodes.com.
[El Foro da la bienvenida a quienes trabajan con familias inmigrantes en apoyo familiar, atención médica, educación y otros sectores, incluidos defensores de familias, administradores de casos, trabajadores sociales, personal de recepción, proveedores de atención temprana y otros que brindan apoyo directo a niños y familias.]