Talk.read.Sing. Time with Marilu! / Habla.Lee.Canta. ¡Tiempo con Marilú!
April 12th, 2023 - August 30th, 2023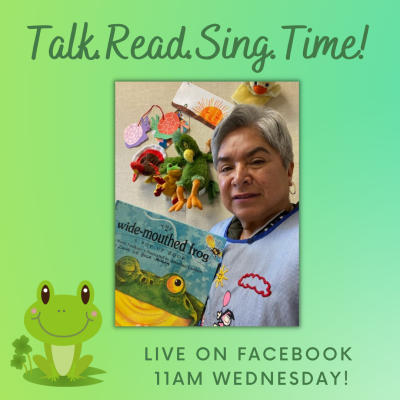 Each week on Wednesdays at 11am, First 5 SLO County, in partnership with Marilu Gomez, hosts a 15-minute song and story time on our Facebook Live page. All ages are welcome. It's a great way to make early literacy activities a habit in your home! https://www.facebook.com/first5SLO
Cada semana, los miércoles a las 11 a. m., First 5 SLO County, en colaboración con Marilu Gomez, presenta una canción de 15 minutos y un cuento en nuestra página de Facebook Live. Todas las edades son bienvenidas. ¡Es una excelente manera de hacer que las actividades de alfabetización temprana se conviertan en un hábito en su hogar!