Family Resource Center Open House / Jornada de puertas abiertas del Centro de recursos familiares
September 27th, 2023 - September 27th, 2023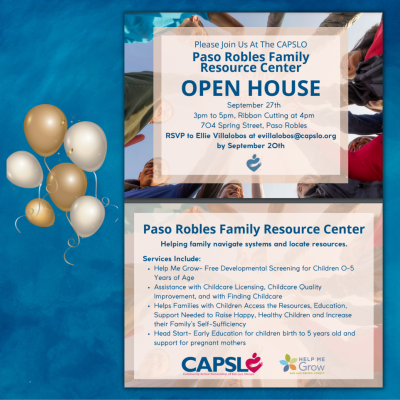 Helping families navigate systems and access valuable services and programs available to them in our county! Our partners at Community Action Partnership (CAPLSO) and Help Me Grow (HMG) are hosting a FREE Open House at the new Family Resource Center in Paso Robles, Wednesday, September 27th from 3-5pm! Location is 704 Spring Street. Stop in, connect, and learn about everything they offer to support parents/caregivers and children! RSVP at evillalobos@capslo.org by 9/20.
¡Ayudando a las familias a navegar por los sistemas y acceder a valiosos servicios y programas disponibles para ellos en nuestras condado! Nuestros socios de Community Action Partnership (CAPLSO) y Help Me Grow (HMG) están organizando una jornada de puertas abiertas GRATUITA en el nuevo Centro de recursos familiares en Paso Robles. ¡Visítenos, conéctese y conozca todo lo que ofrecen para apoyar a los padres/cuidadores y a los niños! Confirme su asistencia a evillalobos@capslo.org antes del 20 de septiembre.
CASA ABIERTA:
miércoles el 27 de septiembre
704 Calle Spring en Paso
Casa Abierta de 3:00 a 5:00 p. m.
Ceremonia de Corte de Cinta a las 4:00 p.m.
Confirme su asistencia a Ellie Villalobos: evillalobos@capslo.org antes del 20 de septiembre