Responsive Feeding in Infants / Alimentación receptiva en bebés
October 9th, 2023 - October 9th, 2023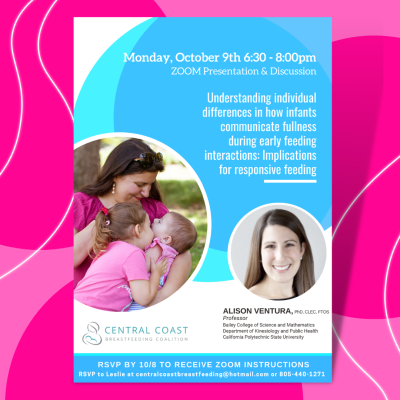 A virtual education opportunity from our partners at the Central Coast Breastfeeding Coalition, featuring guest speaker Alison Ventura, PhD, CLEC, FTOS, a professor of Kinesiology & Public Health at Cal Poly and a First 5 SLO County Commissioner! Join the presentation and discussion at 6:30pm Monday, October 9th on Understanding individual differences in how infants communicate fullness during early feeding interactions: Implications for Responsive Feeding. Data will serve to help answer the following questions: (1) What behaviors do infants exhibit when needing to disengage from feeding or when satiated? (2) How does the display of these behaviors change across the first 12 months? (3) To what extent to infants vary in their display of these behaviors? and (4) What implications does this variation have for efforts to promote responsive feeding? RSVP by 10/8 to receive Zoom instructions. centralcoastbreastfeeding@hotmail.com or (805) 440-1271.
Responsive Feeding in Infants PDF
¡Una oportunidad de educación virtual de nuestros socios de la Coalición de Lactancia Materna de la Costa Central, con la oradora invitada Alison Ventura, PhD, CLEC, FTOS, profesora de Kinesiología y Salud Pública en Cal Poly y comisionada de First 5 SLO County! Únase a la presentación y discusión a las 6:30 p.m. el lunes 9 de octubre sobre Comprensión de las diferencias individuales en cómo los bebés comunican la plenitud durante las interacciones tempranas de alimentación: implicaciones para la alimentación receptiva. Los datos servirán para ayudar a responder las siguientes preguntas: (1) ¿Qué comportamientos exhiben los bebés cuando necesitan desconectarse de la alimentación o cuando están saciados? (2) ¿Cómo cambia la manifestación de estos comportamientos durante los primeros 12 meses? (3) ¿En qué medida varían los bebés en la manifestación de estos comportamientos? y (4) ¿Qué implicaciones tiene esta variación para los esfuerzos por promover una alimentación receptiva? Confirme su asistencia antes del 8 de octubre para recibir instrucciones de Zoom. centralcoastbreastfeeding@hotmail.com o (805) 440-1271.