Building Courage & Self Esteem / Desarrollar coraje y autoestima
November 21st, 2023 - November 21st, 2023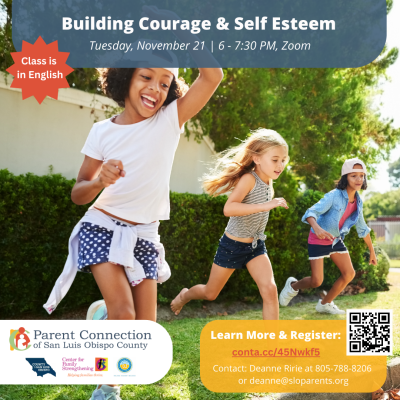 A great opportunity, parents to:
*Understand the relationship between courage & self-esteem
*Learn how to help your children avoid/get out of failure cycles & maintain success cycles
*Explore the benefits of encouragement in communication
Class offered by Parent Connection Tuesday, November 21st from 6-7:30pm on Zoom
Una gran oportunidad, padres para:

*Comprender la relación entre coraje y autoestima.
*Aprenda cómo ayudar a sus hijos a evitar/salir de ciclos de fracaso y mantener ciclos de éxito.
*Explore los beneficios del estímulo en la comunicación.
Clase ofrecida por Parent Connection el martes 21 de noviembre de 6 a 7:30 p. m. en Zoom
Regístrese en https://sloparents.org/classes/